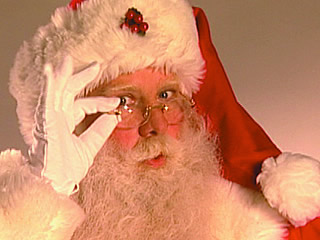 The final countdown to Christmas kicked-off today and as many Aussies brace themselves for puddings and presents, Scrooge has surfaced – demanding a slimmer, trimmer Santa. 
A paper published in the British Medical Journal suggests Santa swap his sled for a bike and ditch the brandy and mince pies for Rudolf's carrots. Dr Nathan Grills from Monash University has accused Father Christmas of inadvertently endorsing obesity, drink-driving, speeding and a general unhealthy lifestyle. Could the crises of the 21st Century really derail the Claus dynasty?
The weighty issue of obesity has been a hot topic for a number of years, and Government legislation has echoed the concerns of Australia's healthcare professionals by establishing a National Preventative Health Taskforce to help curb the nation's expanding waistlines. But, should we be blaming Santa for the 300 million people who are overweight worldwide?
Dr Grills argues that due to his popularity, "Santa needs to affect health by only 0.1 per cent to damage millions of lives". With the weight of the world on his shoulders, Santa hit back, saying he eats plenty of fish, enjoys running and often prefers milk over spirits – commendable role-model behaviour.
As the silly season gets into full swing, many affiliates of the anti-Santa brigade are creeping out of the woodwork. And although we should demonstrate some restraint during this period of indulgence, should Bah Humbugs deny today's children the delight of finding a half-eaten mince pie on Christmas morning?
Merry Christmas to all!