By Claire Leggott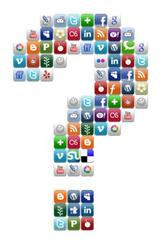 In part two of Cube's update from the Inaugural Social Media in Healthcare Conference we explore the hot topic of how and when to enter the world of healthcare social media. 
From Facebook, Twitter and blogs, to the new kids on the block – Google+ and Pinterest – the social media sphere is ever expanding and brands/companies seem to be embracing new communication channels with increasing vigour.
However, hesitancy to engage with digital remains in many industries, including the pharmaceutical industry.  Employing a level of caution is prudent as navigating social media within the confines of the Medicines Australia Code of Conduct can be a daunting and somewhat tricky business.
It need not be scary though, as Andrew Moore, from Sanofi, pointed out .He believes a fear of the unknown or seemingly uncontrollable should not hold pharmaceutical companies back, and spoke about a listening campaign – social media monitoring – which formed part of Sanofi's first foray into social media.  Getting the campaign up and running involved overcoming challenges regarding the potential for mass adverse event reporting, but in reality adverse event reports occurred with just 0.3% of product mentions.  Andrew advocates a listening campaign as an ideal way for companies to dip their toe into the social media water and as a platform from which an effective social media communications strategy can be developed.
Further voices of experience were heard at the conference, with both Simon Lillis from PwC in Sydney, and Kerrie Noonan from The Groundswell Project, highlighting the vital components to ensuring a successful strategy.  Put simply:
Identify a very clear and simple goal/objective
Interact with the audience (although beware of going too strong and over-facing the audience)
Elisabeth Tuckey, from Headspace, also emphasised the importance of understanding your audience.  For example, males don't often 'like' pages on Facebook but are drawn by visuals so YouTube is an impactful communication channel for men.
It is clear just how much communication is now taking place online, be it on a computer/laptop or mobile device.  Discussion about a brand will be taking place somewhere within the digital ether regardless of whether said brand is actively targeting audiences in this sphere.
Cultivating a social media presence does come with some risks but ignoring this communication channel could be the biggest risk of all.