Australia has one of the world's best healthcare systems, but that doesn't mean there isn't room for improvement. In the digital age, it's hard to believe collecting and sharing health information such as medications, test results, scans, or hospital discharge reports is still by paper – an arrangement which undoubtedly has its limitations.
Australia's move to an electronic health system was only going to be a matter of time. Coupled with the estimated national investment of $466.7million to launch the e-health system next year, healthcare professionals and patients are contemplating the real impact this will make.
According to the Federal Government, the digital management of health information has the potential to transform the way we do things now, streamlining processes, facilitating information sharing and ultimately, making it much easier and efficient to look after the health of the nation. The specific tools that will make this happen include:
Personally controlled electronic health records

: enabling the communication of patient data between different healthcare professionals including GPs and specialists;

Telemedicine

: physical and psychological treatments at a distance;

Consumer health informatics

: use of electronic resources on medical topics by healthy individuals or patients;

Health

knowledge management

: an overview of latest medical journals, best practice guidelines or epidemiological tracking;

Virtual healthcare teams: consisting of healthcare professionals who collaborate and share patient information through digital equipment;

M-health

: including the use of mobile devices in aggregating patient data, providing healthcare information to practitioners, researchers and patients, real-time monitoring of patient vitals, and direct provision of care (via mobile telemedicine);

Medical research using

grids

: powerful computing and data management capabilities to handle large amounts of information;

Healthcare information systems

: appointment scheduling, patient data management, work schedule management and other administrative tasks surrounding

health.
The digital system will increase communication between healthcare professionals and the public – but what difference will it make to their everyday lives?
Patients will be able to access their personal health records and support will be at their fingertips. Ultimately, treatment will be more streamlined resulting in clearer records and more immediate access to healthcare professionals.
For healthcare providers, a seamless roll-out will enable them to access patient information at the click of a button. An electronic system will translate to improved methods for disease surveillance and being able to get a second opinion – resulting in improved patient care.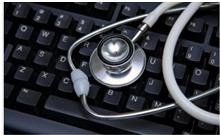 General Practitioner and former Australian Medical Association president, Dr John Gullotta says, "It's inevitable that an implemented e-health system will alter the way patients and GPs interact. Key elements of personalised health information will be brought together and patients will be able to access their own health details and benefit from streamlined GP visits."
Despite the anticipated benefits, there are some concerns about the implementation. The media has voiced doubts about the security of patient's records. In addition to this, there is concern a digital system may isolate people who do not have access to a computer, particularly people living in remote areas, older generations and low socio-economic families. And like all sophisticated IT systems, there is also the risk of technical failures.
The opportunity for patients and healthcare professionals to have access to personal health information whenever needed, and the predicted streamlined treatment journey, paints a very positive picture. But until Australia's e-health system starts operation and is assessed in practice, nobody is willing to fully sing its praises quite yet.